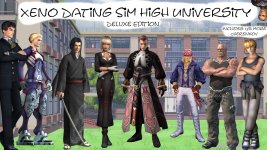 Backstory: the day before Valentine's Day, I asked some members of XenoChat for who they wanted to see in a Xeno dating sim. In a half a day, I created Xeno Dating Sim High University, a really bad dating sim (tm). I received some feedback and added some more material, as you can tell from the title screen.
The game features:
9 romanceable characters (the characters on the title screen)
Name your character - make it your name or something dumb!
Stream of consciousness writing that's probably really bad
This was mostly just a dumb little game to give to XenoChat peeps on Valentine's Day, but give it a shot if you like! The game was developed in Ren'Py and features backgrounds from Uncle Mugen. See the About section for more details.
Windows Version:
http://www.mediafire.com/file/wpc6ly3hxi8srdp/XenoShitSim-1.2-win.zip/file
Mac Version:
http://www.mediafire.com/file/grk3bagtm6k6k7a/XenoShitSim-1.2-mac.zip/file