Vector's Sys Admin
Staff member
Nov 1, 2020
109
195
43
Pronouns

She/They
Show off any cool creative things you're working on! Drawings, writings, garden-ings, 3dprintings, antique furniture restoration, you name it!
I think it's fun to show off stuff you're working on and to see how others progress through their ideas and creative processes.
I'll share a couple of drawings to get us started... First I have this traditional one of Shion that I desperately need to stop procrastinating on cleaning up and doing the background: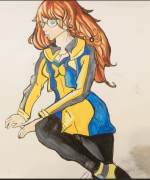 This week, I started this digital SBR fanart of the main characters based on the album art for The Alternate Tusk. I saw the cover for that and I thought it was a neat idea.
Reference: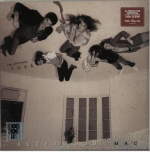 Sketch as of 18Dec2020: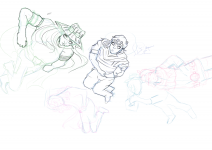 I usually suck at sketching things on a tablet so I'm pretty happy with how it's coming out so far.
The foreshortening on Johnny's right hand needs some touching up ( think this is a byproduct of me referencing Stevie's hand for the pose too hard lol, I need to give it muscle tone like I did for the left...the ref worked surprisingly well for everything else though) and I'm NOT looking forward to finishing the pose on Diego but heyyy I got this far without hating it!
Looking forward to seeing everyone's work!
Last edited: