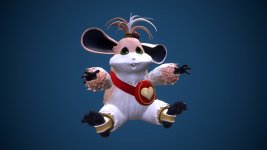 (ChuChu 3d sculpture made by BlueShamu)
I am looking for Xenogears fans to join me in my efforts to create more XENOGEARS Characters from the game, true to the original characters as much as possible.
If you are a big fan of Xenogears you probably know they made 3 figures from the game not too long ago.
After not hearing back about whether there would be more characters, I decided to begin adding to the collection on my own.
-So far I have made 2 characters, and would like to continue but I am looking for feedback from fans.
Please subscribe to
MY YOUTUBE CHANNEL HERE
and let me know you are a fan and are interested!
(On this channel I have also uploaded paintings I have done from Xenogears, help support the creation of more Xenogears Fan Art!)
-If you have any questions or comments or feedback, please email me at
BlueShamoo@gmail.com